Our Office
Our car hire office in Alicante airport is where the business began and remains our principle base and head office. Our team of more than 15 people take care of all of your needs - in your language and offer a friendly, efficient and professional car hire experience.
Customers arriving to hire a car at Alicante airport have two shuttle buses at their disposal which run regularly ready to whisk them from our convenient pick up point to our strategically located offices which are just a few hundred metres away. Once at the office our team will process the paperwork quickly and with minimal fuss allowing you to start your holiday in the Alicante area with no stress.
Our Alicante office is modern, purpose built and also has a rest area with hot and cold drinks and snacks machines available.
Contact Drivalia in Alicante
Drivalia Alicante
Alicante Airport
Ctra. Aeropuerto - Torrellano s/n 03320
+34965681661
+34965681660
+34628389564
Twitter @Drivalia
Facebook Drivalia
How to locate Drivalia at Alicante Airport
On arrival at the Airport Terminal, please proceed to the main bus stop area situated inmediatley outside the building doors on floor -2 (minus 2). Our shuttle bus properly identified will be in bus stop numbers 1 to 3 and will promptly take you to our premises situated a few hundred metres away from the Terminal building. The shuttle service runs regularly throughout the day and so if there is no bus on arrival don´t worry, it will be with you soon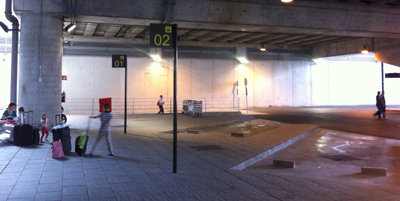 Download here Drivalia Alicante airport car hire return instructions.
Download Instructions